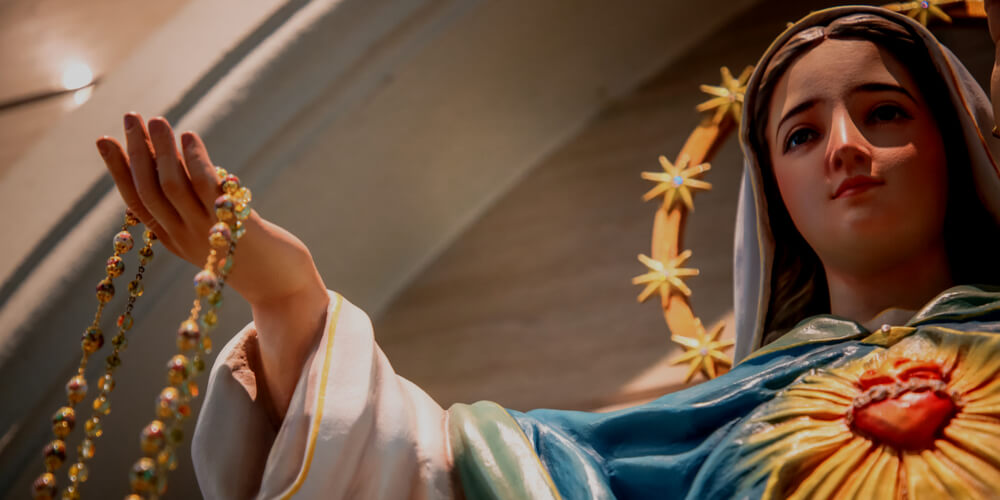 Hail Mary
Hail Mary, full of grace,
the Lord is with you.
Blessed are you among women,
and blessed is the fruit of your womb, Jesus.
Holy Mary, Mother of God,
pray for us sinners,
now and at the hour of our death.
Amen.
Prayer to Our Lady of Lourdes
O ever immaculate Virgin, Mother of mercy, health of the sick, refuge of sinners, comfort of the afflicted, you know my wants, my troubles, my sufferings; deign to cast upon me a look of mercy. By appearing in the Grotto of Lourdes, you were pleased to make it a privileged sanctuary, whence you dispense your favors, and already many sufferers have obtained the cure of their infirmities, both spiritual and corporal.
I come, therefore, with the most unbounded confidence, to implore your maternal intercession. Obtain, O loving Mother, the grant of my requests. I will endeavor to imitate your virtues, that I may one day share your glory, and bless you in eternity.
Amen.
Regina Caeli
O Queen of heaven, rejoice, alleluia!
For he whom you have chosen to bear, alleluia!
Is risen as he said, alleluia!
Pray for us God, alleluia!
Rejoice and be glad, o Virgin Mary, alleluia!
For the Lord is truly risen, alleluia!
God, by the resurrection of your Son, our Lord
You were pleased to make glad the whole world
Grant, we beseech you,
That through the intercession of the Virgin Mary, his mother,
We may attain the joys of everlasting life,
Through the same Christ our Lord.
Amen.
Opening Prayer
Mary, my Mother, you were the first to live the Way of the Cross.
You felt every pain and every humiliation. You were unafraid of the
ridicule heaped upon you by the crowds. Your eyes were ever on Jesus
and His Pain. Is that the secret of your miraculous strength? How did your
loving heart bear such a burden and such a weight? As you watched Him
stumble and fall, were you tortured by the memory of all the yesterdays-
His birth, His hidden life and His ministry?
You were so desirous of everyone loving Him. What a heartache it was
to see so many hate Him - hate with a diabolical fury. Take my hand as I
make this Way of the Cross. Inspire me with those thoughts that will make
me realize how much He loves me. Give me light to apply each station to my
daily life and to remember my neighbor's needs in this Way of the Pain.
Obtain for me the grace to understand the mystery, the wisdom
and the Divine love as I go from scene to scene. Grant that my heart, like
yours, may be pierced through by the sight of His sorrow and the misery and
that I may determine never to offend Him again. What a price He paid to
cover my sins, to open the gates of heaven for me and to fill my soul with His
own Spirit . Sweet Mother, let us travel this way together and grant that the
love in my poor heart may give you some slight consolation.
Amen.
Children's Prayer To Mary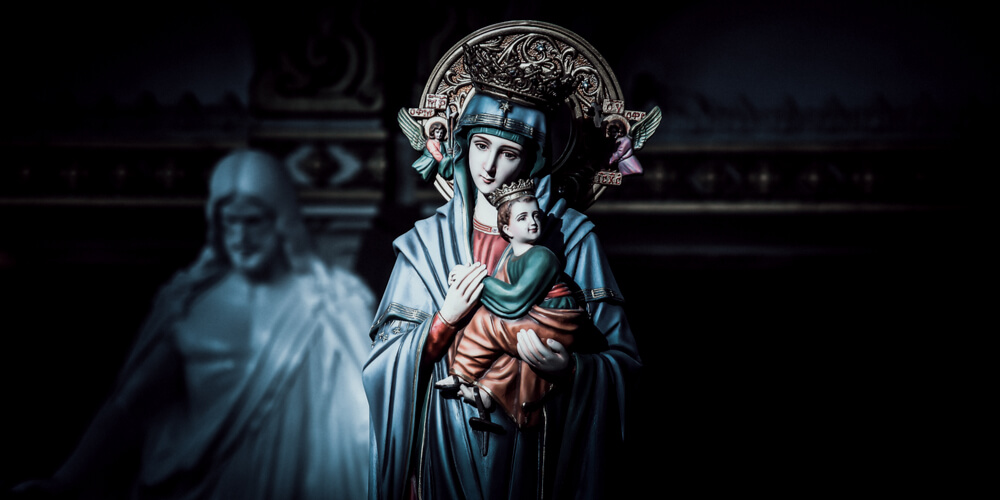 Dear Mother of Jesus,
look down upon me
As I say my prayers slowly
at my mother's knee.
I love thee, O Lady
and please willest thou bring
All little children
To Jesus our King.
Angelus
The angel of the Lord declared unto Mary,
And she conceived of the Holy Spirit. Hail, Mary, …
Behold, the handmaid of the Lord
Be it done to me according to thy word. Hail, Mary, …
And the word was made flesh
And dwelt among us. Hail, Mary, …
Pray for us, o holy Mother of God
That we may be made worthy of the promises of Christ.
Pour out, we beseech thee, o Lord, thy grace into our hearts,
That we to whom the message of thy Son was made known by an angel,
May by his passion and death be brought to the glory of his resurrection,
Through the same Jesus our Lord.
Amen