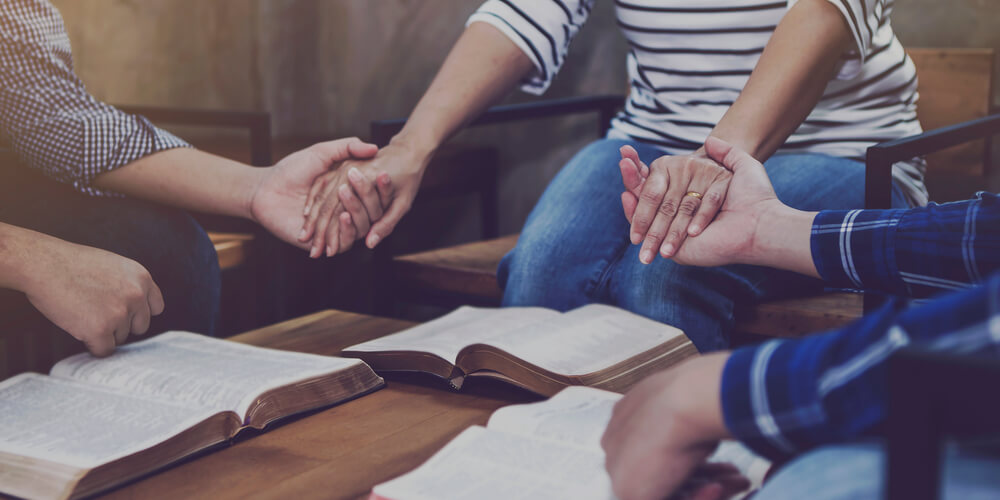 Make me content
God, who can know your mind? Please don't let me expect that you want to use me as a teacher in someone else's life, as if I know the plans you have ordained for another's growth and benefit. I am content to play whatever part in others' lives you want me to play.
Inspirational Prayer (St. Francis de Sales)
Do not look forward to what may happen tomorrow; the same everlasting Father who cares for you today will take care of you tomorrow and every day. Either He will shield you from suffering, or He will give you unfailing strength to bear it. Be at peace, then. Put aside all anxious thoughts and imaginations, and say continually: "The Lord is my strength and my shield. My heart has trusted in Him and I am helped. He is not only with me but in me, and I in Him."
Prayer before a Crucifix

Look down upon me, good and gentle Jesus,
while before Your face I humbly kneel and,
with burning soul,
pray and beseech You
to fix deep in my heart lively sentiments
of faith, hope and charity;
true contrition for my sins,
and a firm purpose of amendment.
While I contemplate,
with great love and tender pity,
Your five most precious wounds,
pondering over them within me
and calling to mind the words which David,
Your prophet, said of You, my Jesus:
"They have pierced My hands and My feet,
they have numbered all My bones"
Amen.
The Apostles' Creed
I believe in God, the father almighty, creator of heaven and earth.
I believe in Jesus Christ, his only Son, our Lord.
He was conceived by the power of the Holy Spirit and born of the Virgin Mary.
He suffered under Pontius Pilate, was crucified, died, and was buried.
He descended to the dead.
On the third day he rose again.
He ascended into heaven and is seated at the right hand of the Father.
He will come again to judge the living and the dead.
I believe in the Holy Spirit,
the holy catholic Church,
the communion of saints,
the forgiveness of sins,
the resurrection of the body,
and the life everlasting. Amen.
Lord's Prayer
Our Father,
who art in heaven,
hallowed be thy name;
thy kingdom come;
thy will be done
on earth as it is in heaven.
Give us this day our daily bread;
and forgive us our trespasses
as we forgive those who trespass against us;
and lead us not into temptation,
but deliver us from evil.
Amen.
Prayer to St. Rita in Special Need

O powerful St. Rita, rightly called Saint of the Impossible, I come to you with confidence in my great need. You know well my trials, for you yourself were many times burdened in this life. Come to my help, speak for me, pray with me, intercede on my behalf before the Father.

I know that God has a most generous heart and that he is a most loving Father. Join your prayers to mine and obtain for me the grace I desire (here mention your request).
You who were so very pleasing to God on earth and are so much so now in heaven, I promise to use this favor, when granted, to better my life, to proclaim God's mercy, and to make you more widely known and loved.
Amen.
Father God
Father God, my heart is filled with chaos and confusion. I feel as if I am drowning in my circumstances and my heart is filled with fear and confusion. I really need the strength and peace that only You can give. Right now, I choose to rest in You. In Jesus' Name I pray, Amen.
Prayer for Perseverance
Holy Lord, Thank You for grace. Please help me move beyond the hurdles that trip me up and give me the strength and wisdom to look up and see the hope I run toward in Christ. In Jesus' Name, Amen.
Act of Faith

O my God, I firmly believe that you are one God in three divine Persons, Father, Son, and Holy Spirit. I believe that your divine Son became man and died for our sins, and that he will come to judge the living and the dead.
I believe these and all the truths which the holy Catholic Church teaches, because you have revealed them, who can neither deceive nor be deceived.
Amen.
Prayer for the Broken-Hearted
Lord, my heart is broken but You are near. My spirit is crushed, but You are my rescuer. Your Word is my hope. It revives me and comforts me in especially now. My soul faints, but you are the breath of life within me. You are my help, the One who sustains me. I am weak but You are strong. You bless those who mourn, and I trust You to bless me and my family with all that we need. You will rescue me from this dark cloud of despair because You delight in me. In Jesus' Name, Amen.
Oppression
Father in heaven, I know that the road ahead is full of mystery for me, but You know all of my steps already. Lord, Your Word and ideals are oppressed every day in the world. Lord, I will not back down, though. I will stay strong in Your will and Your Word. When people take Your name in vain, I will stand for You. When people deny the existence of Jesus Christ, I will stand for Him. When anyone attacks my faith, I will stand firm in the promises of Your Holy Word for You are truth, love and life everlasting. I love you, Father, and I count it joy to be persecuted for You each day. Amen
Prayer for Peace of Mind

Fortify me with the grace of Your Holy Spirit and give Your peace to my soul that I may be free from all needless anxiety, solicitude and worry. Help me to desire always that which is pleasing and acceptable to You so that Your will may be my will. Amen
Our Father, Our God
Our Father, our God, in my own consciousness Let me find happiness in the love of Thee, For the love I bear toward my fellowman. Let my life, my words, my deeds, bring the joy And happiness of the Lord in Jesus to each I meet, Day by day.
Prayer of a Humble Heart
Lord,
I know I am busy with life events,
So, please God,
Do not forget that I am always your servant. Amen.
Lord, be our Guide, our Light, our Day Star

Dear Lord Jesus, In these days of trouble, days of worries, days of sickness and darkness; Guide us Lord. Be our ever bright star. Be our guide at night, be our eternal, everlasting light throughout the day. Lord, lead us home into the glory land. Restore our strength and lead us to the rivers that never run dry.
Prayer of St Francis
Lord, make me an instrument of your peace;
where there is hatred, let me sow love;
where there is injury, pardon;
where there is doubt, faith;
where there is despair, hope;
where there is darkness, light;
and where there is sadness, joy
Serenity Prayer
God grant me the serenity
To accept the things I cannot change;
Courage to change the things I can;
And wisdom to know the difference.
With You, Nothing Is Impossible

Heavenly Father, I won't allow anyone on this earth to convince me I we cannot do something. You have clearly stated in your Word that I can do all things through Christ who gives me strength.
My dreams may be outlandish and unrealistic to the mere mortal understanding, but with You, nothing is impossible. You will turn my dreams into reality. I know everything will fall into place for me, in your perfect time.
The Serenity Prayer
God grant me the serenity to accept the things I cannot change; courage to change the things I can; and wisdom to know the difference. Living one day at a time; Enjoying one moment at a time; Accepting hardships as the pathway to peace; Taking, as He did, this sinful world as it is, not as I would have it; Trusting that He will make all things right if I surrender to His Will; That I may be reasonably happy in this life and supremely happy with Him Forever in the next. Amen.
Now I awake and see the light
Now I awake and see the light; Lord, Thou hast kept me through the night. To Thee I lift my voice and pray That Thou wilt keep me through the day.
If I should die before 'tis done, O God, accept me through Thy Son!
Amen